Click here to edit Spacer module.
At Sherwood Print & Copy
we offer a wide range of products and services to suit your needs:
Click here to edit Spacer module.
Digital Printing and Photocopy Service
No job is too big or too small! We offer full color and black and white printing on a wide variety of paper types. Drop by or Email your order in and we will let you know as soon as it is available for pickup. Want to take advantage of volume pricing for B&W photocopying but only need small amounts at a time? Purchase our Copy Card to get the 500 price, then use at your leisure.
Award Winning Graphic Design
Bring in your ideas! We have experienced Graphic Designers on staff that can work with you to create the perfect Business Card, Brochure, Flyer or Poster for your business, and within your budget. Do you have an idea for a book? We can also help you with setting up cookbooks, history books, or your potential best seller!
Signs, Banners and Decals
Whether you need trade show banners, decals for your vehicle or equipment, or weather-resistant signs for your office, we can help. We offer custom die-cut labels, oversize posters, banners and stands, and all sorts of signage to meet your needs.
Scanning and Archiving
We specialize in Document Scanning. We can turn your QC&QA/Turnover Binders into high quality pdf format, all bookmarked and saved to USB Drive for your convenience. Let us get the job done right and in a timely manner so that you can get paid for your work.
Construction and Engineering Drawings
Do you need black & white or full color blueprints? We can print, copy or scan your drawings up to 36″ wide, any length. Drop them off or email in your files for quick turnaround!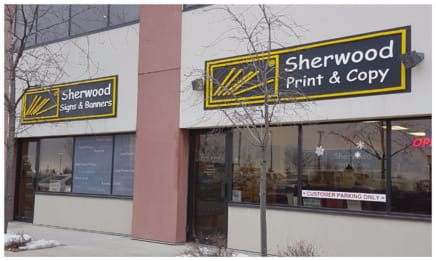 Printing Services
Business Cards, Letterhead, Envelopes, Cheques, Computer Forms, Carbonless Forms, Menus, Tabs, Invitations, Thank-you Card, Postcards, Brochures, Flyers, Door Hangers, Presentation Folders…the list goes on and on! And we do it all!
Getting married? Send us your artwork or let us design something unique that reflects exactly who you are!
Promotional Products
Trying to get your name out there? Ask us about Post-It Notes, Pens, Golf Balls, Calendars,
Notepads, Fridge Magnets, Gift Certificates and more.
Not quite sure what you want? Click on a link below to view the promotional products we offer.
General Promotional Items:
Golf Related: